Irvine Ranch is proud of our rich Kansas heritage and family farming tradition. Our family's ancestors were among the first settlers in the Manhattan, Kansas area, arriving in 1855. A log cabin was built in the Blue Township in Pottawatomie County in 1856. The farming and ranching tradition began at that time, and it has continued to the present. Our agricultural ventures have greatly expanded, and are now owned and operated by 5th and 6th generation Kansans. The 7th generation is on the ground and starting to work their way into the operation. The log cabin has disappeared, but some of that Flint Hills pasture that was utilized by the earlier generations, over one hundred years
ago, is still used in our operation today.
Our present cowherd can trace its roots back over 80 years. In 1927, George Irvine, our father and grandfather, purchased 25 Hereford cows at the stockyards in Kansas City. The cows were shipped by rail to Manhattan. With that group of cows serving as a foundation, we have progressed with a continuous and uninterrupted herd of cattle, from that humble beginning to today's registered operation. Many of the cows in our herd can trace their roots back to the 1927 foundation. Through the years, we have supplemented our existing cowherd with the acquisition of a handful of superior purebred Simmental and Angus cows.
In 1968, we started using Simmental bulls in our AI breeding program. We joined the American Simmental Association in the early 1970s and have been registering Simmental cattle since that time. In the late 1980s, we joined the American Angus Association and began incorporating Angus genetics into the herd.
For approximately 40 years breeding bulls were sold off the farm, beginning with Horned Hereford and then Simmental. As our program began to grow, we recognized the value of having an annual sale. Bulls have been marketed through the annual sale on the 1st Saturday of November, since 2005. Annually, the top 50% of the bull calf crop make the cut. Starting in 2010, we will also offer breeding females in the sale.
We are firm believers in the value of Simmental genetics. Current Simmental genetics are well suited to provide balance and strength in all facets of beef production. By combining the Simmental influence with rigorous selection for economic traits and the use of EPD's, we have been able to improve our herd in all aspects. The Angus genetics have been added to complement the strengths of the Simmental genetics.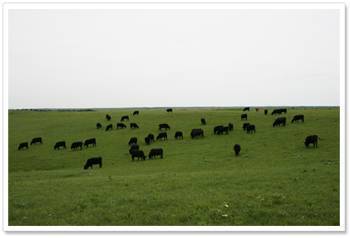 Our herd improvement "blueprint" is focused on improving genetic traits affecting profitability for our beef-producing customers. Our goals are to improve early growth, carcass quality, feedlot and maternal efficiency, while maintaining easy calving cattle that are fertile, tame, and moderate in mature size. Our systematic genetic approach is designed to move the genetic trend of our herd and our customers herd's in the direction of greater profitability. The breeding animals we sell are "vehicles" designed to deliver these enhanced genetic packages to our customer's herds. The Simmental and Angus breeds provide the best opportunity to allow us to accomplish our aggressive objectives.
Irvine Ranch looks forward to continued success in producing superior genetics for our customers by combining our rich tradition and heritage with modern advancements in beef production.